Why should I replace my factory 2 piece Mustang driveshaft?

*The Ford Mustang Driveshaft was not built to withstand high torque and horsepower.
*The factory Mustang shaft is not serviceable. The yokes are friction welded to the tube and the cv's and carrier bearing are non-replaceable, so if something goes bad you have to replace the whole driveshaft. Our driveshaft is serviceable so it will save you money in the long run.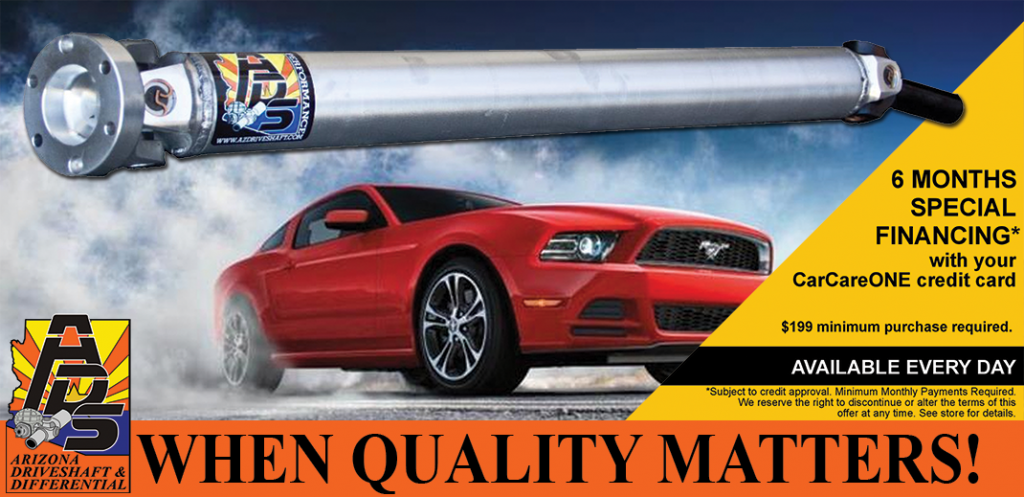 Call us today for a quote! 480-898-1957
ADS4900 – Our Chromoly Driveshaft is the strongest type of shaft available. Made with 4130 Chromoly seamless tubing. We offer either 3″ or 3-1/2′ O.D. with a .095 wall thickness. These shafts are welded to chrome moly weld yokes and Spicer solid U-Joints in the series of your choice.
ADS5000 – is a direct bolt on replacement for a factory two piece Driveshaft. This driveshaft offers a proprietary aluminum flange that bolts directly to the stock pinion flange. It is available for V-6 or V-8 cars. Saves 22Lbs over the stock shaft while adding strength at the same time!
ADS5001 – is a specific fit for a car fitted with a aftermarket T-56 Tremec Magnum XL transmission and offers the same proprietary flange for direct bolt on at the rear differential flange.
Save
Save