Do you have a factory vibration in your RZR Driveshaft?

Our upgraded RZR driveshafts will eliminate that vibration. RZR 1000 driveshafts were built from the Polaris factory out of phase and out of balance. If left alone the minor vibration will get worse and potentially fail causing more damage to your RZR's transmission and other driveline parts. AZ Driveshaft has over 33 years in business with a very high customer satisfaction rating. Trust only the experts to get the best results!!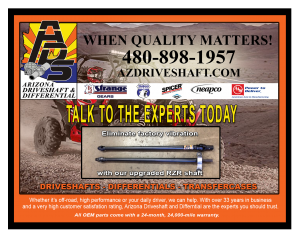 Call us today for a quote! 480-898-1957
Don't live near Mesa, AZ?? Ship your driveshaft to us. We will repair it and ship it back to you!
Save
Save
Save
Save
Save
Save
Save